Let's admit, on our personal computers; we usually have almost 30-40 apps installed. Well, you can install unlimited apps on your computer as long as you have sufficient storage left. However, there are times when we need to free up some storage.
If you are using Windows 10 and looking for ways to free up some disk space, you can uninstall apps that you no longer use. There are multiple ways to uninstall a program on Windows 10. For instance, you can easily uninstall an app from the Control Panel, from the Start menu, from Command Prompt, etc.
Also Read: 10 Best CMD Commands Used In Hacking
Steps to Uninstall a Program using Command Prompt in Windows 10
In this article, we will share a detailed guide on how to uninstalls apps you no longer use straight from the Windows 10 command prompt. Let's check out.
Step 1. First of all, click on the Windows search and search for CMD. Right-click on the CMD and select 'Run as administrator'
Step 2. Now you will see a full-fledged Command Prompt Window. Here you need to type in 'Windows Management Instrumentation Command-line utility. Just type in 'wmic' on the Command prompt and hit the Enter button.
Step 3. Now type in the command 'product get name'
Step 4. The above command will list the programs installed on your system.
Step 5. Now you need to find the program name that you want to uninstall. Once done, execute the command given below.
product where name="program name" call uninstall
Note: Make sure to replace the 'Program Name' with the program's name that you want to uninstall.
Step 6. Now on the confirmation window, type in the command 'Y' and hit the Enter button.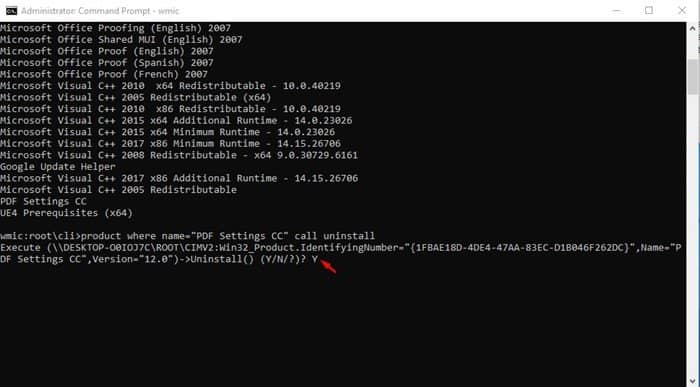 Step 7. Once done, wait until the process completes. Once completed, you will see the success message.
That's it! You are done. This is how you can uninstall a program using Command Prompt in Windows 10.
So, this article is all about how to uninstall a program using Command Prompt in Windows 10. I hope this article helped you! Please share it with your friends also. If you have any doubts related to this, let us know in the comment box below.


This post was written by Amarnath Chakraborty and was first posted to TechViral
---
Do you find this article helpful? Your Friend might too. So, please Share it with them using the Share button above.
Will you like to get notified when I post new updates? Then Follow me on any of my social media handles:
Google News, Telegram, WhatsApp, Twitter, Facebook, Pinterest.
You can also drop your email address below if you wish to be notified by mail.
[newsletter_form type="minimal" lists="undefined" button_color="undefined"]
---