There are lots of users, including me who listen to music on the smartphone just before going off to sleep. Listening to music after a tiring day is indeed a relaxing thing. But what we usually do is, we put on the earphones, listen to music and fall asleep. Leaving the phone as it is, the music plays all night, consuming both battery and internet data.
These are the little things, but it can damage your sleep cycle because the audio can disturb you later when you are in a deep sleep. So, to deal with such issues, Android users need to set up the Sleep timer for Music. There are plenty of sleep timer apps available on the Google Play Store that let users stop audio after time from any app.
In this article, we are going to share the best method that would help you to put a sleep timer on popular music streaming and music player apps. It's worth noting that if your phone is not running on stock Android, then the Sleep timer option for music might be there on the music player app. So, before trying out the third party apps, check out whether the sleep timer for music exists on your stock music player or not.
Steps to Set Sleep Timer for Music on Android
If the stock music player app of your Android doesn't have the sleep timer option, then you need to follow the steps given below.
Using the Sleep Timer
Well, Sleep timer is an Android app that's meant to promote sleep. It allows users to start the music and then set a countdown timer. At the end of the countdown, the Sleep timer Android app softly fades the music out and stops it. Here's how you can use Sleep timer on Android.
Step 1. First of all, on your Android mobile, download and install the app Sleep Timer (Turn music off).
Step 2. Once installed, open the app. You will now see a screen like below.
Step 3. Now, tap on the three dots located on the top-right corner, and select 'Settings'
Step 4. On the Settings page, tap on the 'Player to launch on start' option.
Step 5. Now select the music player in which you want to set the sleep timer.
Step 6. Now move to the main page of the app, and use the slider to set the time limit. Once done, tap on the 'Start & Player' option to start the timer.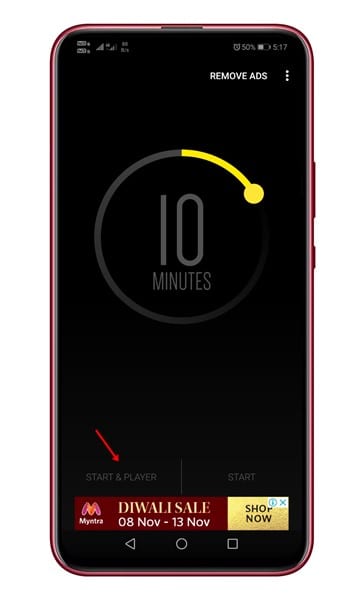 That's it! You are done. Now just open the music player app in which you have set up the sleep timer. The music player will stop itself once the timer ends.
So, this article is all about how to set a sleep timer for music on an Android smartphone. I hope this article helped you! Please share it with your friends also. If you have any doubts related to this, let us know in the comment box below.


This post was written by Karanpreet Singh and was first posted to TechViral
---
Do you find this article helpful? Your Friend might too. So, please Share it with them using the Share button above.
Will you like to get notified when I post new updates? Then Follow me on any of my social media handles:
Google News, Telegram, WhatsApp, Twitter, Facebook, Pinterest.
You can also drop your email address below if you wish to be notified by mail.
[newsletter_form type="minimal" lists="undefined" button_color="undefined"]
---