Well, if you have used Telegram, you might know that the instant messaging apps require your phone number to sign up. It uses your phone number to authenticate your identity. Once signed up, Telegram allows you to add contacts in two different ways: Using the phone number or using the usernames.
Similarly, other Telegram users can also find you by your phone number or via your username. So, if you don't want others to find you on Telegram via the phone number, you can choose to hide it. Also, by default, Telegram shows your phone number on the profile section. The phone number is visible to all contacts connected with your Telegram account.
This thing again raises a few privacy issues. For example, the one who has reached you via username would know your phone number. This is why many Telegram users choose to hide their phone numbers. It's relatively easy to hide phone numbers in a telegram, provided if you and your contacts were comfortable with the username search system.
Also Read: How to Hide Last Seen On Telegram for Android
Steps to Hide Your Phone Number in Telegram for Android
In this article, we will share a step-by-step guide on how to hide your phone number in Telegram for Android. Let's check out.
Step 1. First of all, open the Telegram app on your Android smartphone.
Step 2. Now tap on the three horizontal lines as shown below.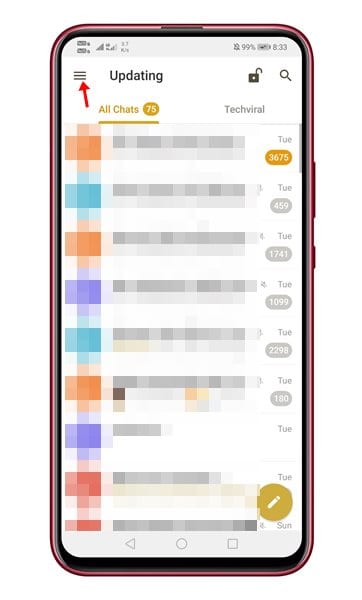 Step 3. From the menu, tap on the 'Settings'
Step 4. On the Settings page, tap on the 'Privacy and Security' option.
Step 5. Under the Privacy, tap on the 'Phone Number' option.
Step 6. Under the who can see my phone number, you will find three different options – Everybody, My Contacts, and Nobody.
Step 7. If you choose the 'Nobody' option, you will find another option, 'Who can find me by my number'. Tap on it, and select the 'My Contacts' option.
Step 8. Once done with the settings, tap on the Checkmark button located in the top-right corner.
That's it! You are done. This is how you can hide your phone number in Telegram for Android.
So, this article is all about how to hide your phone number in Telegram for Android. I hope this article helped you! Please share it with your friends also. If you have any doubts related to this, let us know in the comment box below.


This post was written by Amarnath Chakraborty and was first posted to TechViral
---
Do you find this article helpful? Your Friend might too. So, please Share it with them using the Share button above.
Will you like to get notified when I post new updates? Then Follow me on any of my social media handles:
Google News, Telegram, WhatsApp, Twitter, Facebook, Pinterest.
You can also drop your email address below if you wish to be notified by mail.
[newsletter_form type="minimal" lists="undefined" button_color="undefined"]
---