When you schedule a Microsoft Teams meeting, the app automatically updates your calendar to reflect the latest changes. The same thing happens if you schedule a Teams meeting via another app, such as Outlook. When you convert an Outlook meeting to a Teams meeting, that meeting immediately appears on your Teams calendar.
That's the theory. In practice, there may be moments when your Teams meetings won't appear on the calendar. The situation is even worse when you don't notice this problem, and you're convinced your calendar has successfully been updated.
How to Fix Microsoft Teams Meetings Not Appearing in Calendar
Quick Fixes
Log out, close the app, launch Teams again, and log back in.
Launch the web app and check if your meeting appears on the online calendar.
Ask someone to forward you the meeting invitation email.
Don't use the Meet Now option; click on the "Schedule a meeting" button instead.
Make sure you add the team as a participant.
Clear the Cache
If this issue stems from your Teams desktop app, clear the cache and check if this method works. By the way, don't forget to back up important data before you clear the cache.
Exit the Microsoft Teams desktop client.
Then type %appdata%Microsoftteams in the search bar and press Enter.
Delete all the files from the folders that have 'cache' in their name.
Additionally, delete all the files from the following folders: blob_storage, databases, Local Storage, and tmp. Then delete the .db file from the IndexedDB folder.
Launch Teams and check if all your meetings appear on the calendar.
Create a New Meeting
Several users were able to solve this issue by creating a new meeting. Inside the Teams app, go to Schedule Meeting and create a new meeting with just one person. Save it and check if all your meetings appear on the calendar now.
Keep a Copy of Forwarded Emails
If your meeting invitations also get forwarded to your personal email account, chances are the meetings are visible on your personal calendar.
Go to the Outlook Web App, click on Settings, and select View all Outlook settings.
Then select Mail and click on Forwarding.
Save a copy of your forwarded messages.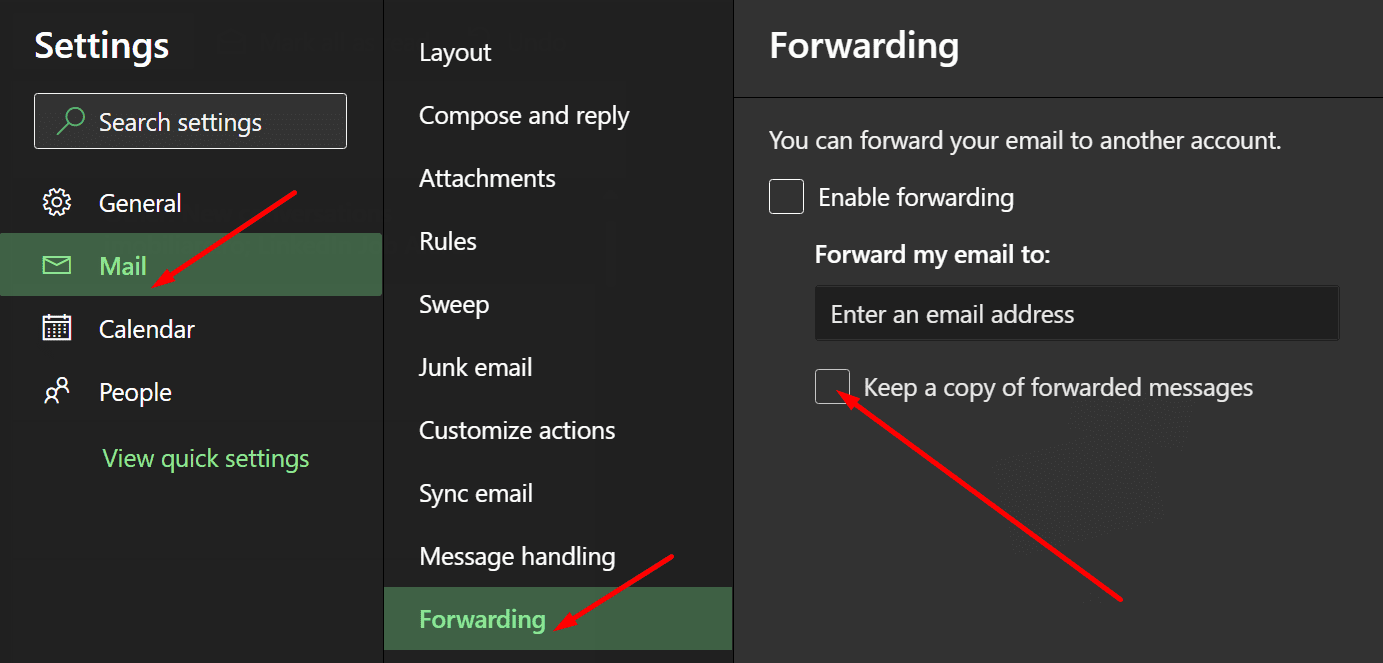 Check if your work or school account now gets the meeting invitation emails. The meetings should now appear on your calendar.
Subscribe to Group Events
If channel meetings don't appear on your Teams calendar, be sure to subscribe to the events related to the Office 365 group your team is based on. Do that from your Outlook account.
Launch Outlook, select your group, and then go to Not following. Select Follow in Inbox to get all the Teams events and meeting notifications for that group.
Conclusion
If Teams meetings won't show on your calendar, log out and ask someone to forward you the invitation. If you're not getting channel meeting invitations, subscribe to the Office 365 group the team channel is based on. Did you manage to solve this problem? Let us know in the comments below.


This post was written by Madalina Dinita and was first posted to Technipages
---
Do you find this article helpful? Your Friend might too. So, please Share it with them using the Share button above.
Will you like to get notified when I post new updates? Then Follow me on any of my social media handles:
Google News, Telegram, WhatsApp, Twitter, Facebook, Pinterest.
You can also drop your email address below if you wish to be notified by mail.
[newsletter_form type="minimal" lists="undefined" button_color="undefined"]
---