Is error 0x0003 preventing you from using NVIDIA GeForce Experience? If you're experiencing this issue, you've come to the right place. Let's dive right in and see what triggers this error code and how you can fix it.
NVIDIA GeForce Experience error 0x0003 usually occurs when you're trying to update your drivers for a newly launched game.
Fix GeForce Experience Error 0x0003 on Windows 10
Close All NVIDIA Processes
Ending all the NVIDIA processes running in the background may solve this problem. If one of these processes got stuck, it may block the others as well.
Launch the Task Manager.
Then click on the Processes tab.
Right-click on the active NVIDIA processes (one by one).
Then select End task.
Restart your computer and check if error 0x0003 is gone.
Enable and Restart All NVIDIA Services
Try enabling and restarting all the NVIDIA services listed under the Services app. If there's something wrong with one of the services, restarting it should fix the issue.
Type 'services' in the Windows Search bar.
Then double-click on the Services app to launch it.
Scroll down and locate all the Nvidia services available on your computer.
First, make sure their status is set to Running. This indicates the respective services are running on your device.

If the Service Status is set to Stopped, you need to manually start that service.

Right-click on each NVIDIA service to open the context menu and select Refresh.
Check if error 0x0003 persists.
Other users solved this problem by setting the Startup type for all the NVIDIA services to Manual. To do this, right-click on your NVIDIA service, and select Properties. The use the drop-down menu to set the Startup Type to Manual.
If you do this, keep in mind that you need to manually start all these services one by one.
Disable Background Processes
Other programs running in the background might be interfering with your GeForce Experience app. Launch the Task Manager again and close all the programs and processes that you're not actively using.
For example, if you don't need Microsoft Edge while you're playing your favorite games, simply close the process.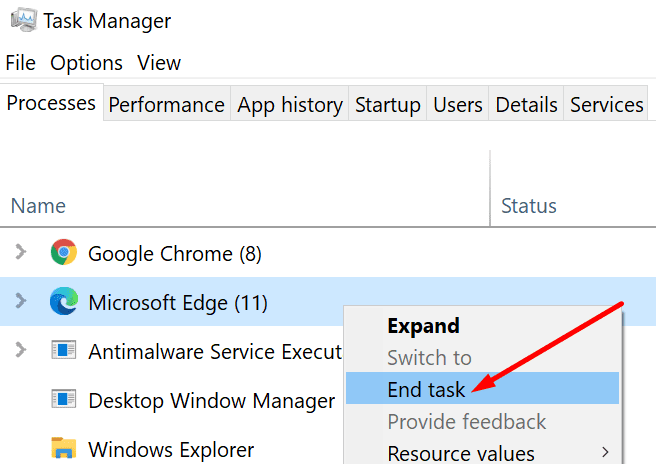 Check Your NVIDIA Install Location
Error 0x0003 can pop up if you initially installed NVIDIA on a different drive, but then you changed the app location. For example, you first installed NVIDIA on your C: drive. But then you edited your Registry and moved NVIDIA to your D: drive.
Next time you update GeForce, your computer will install all the Nvidia files on your D drive. However, the NVIDIA Telemetry Container service will still be referencing your C: drive.
To fix this problem, you need to point the container to the correct drive. You can either reinstall everything or tweak your Registry again.
Or you can use a method that's a mix of these two suggestions.
First, uninstall Geforce.
Then, launch the Registry Editor and go to HKEY_LOCAL_MACHINESOFTWAREMicrosoftWindowsCurrentVersion.
Edit the ProgramFilesDir so as to point from D:Program Files to C:Program Files.
Do the same for the ProgramFilesDir (x86) folder. It needs to point from D:Program Files (x86) to C:Program Files (x86).
Restart your computer and reinstall Geforce Experience on your C: drive.
Additional Fixes Suggested by Users
Disable your VPN. If you're using a VPN tool, turn it off. Check if this quick workaround did the trick for you.
Download the Geforce Experience app. Some users suggested you don't need to reinstall Geforce. Instead, you can re-download the Geforce Experience app from the main page on NVIDIA's website.


This post was written by Madalina Dinita and was first posted to Technipages
---
Do you find this article helpful? Your Friend might too. So, please Share it with them using the Share button above.
Will you like to get notified when I post new updates? Then Follow me on any of my social media handles:
Google News, Telegram, WhatsApp, Twitter, Facebook, Pinterest.
You can also drop your email address below if you wish to be notified by mail.
[newsletter_form type="minimal" lists="undefined" button_color="undefined"]
---