Just like Android smartphones, iPhones are also getting more capable with every release. You won't believe it, but iPhone 8 Plus, iPhone X/XS, XS Max, and XR have the best mobile cameras on the market. With such a capable camera, users can capture great portraits and landscape photographs.
Well, it's true that with the iPhone, you can capture the best pictures quickly, but it won't always stand up to the expectation. Let's admit, even after capturing the most impressive shot, we all want to give it a finishing touch. The finishing touch can include color adjustment, object removal, crop, etc.
Best Photo Editing Apps For iPhone
So, to give your photos the finishing touch, you need to use iPhone photo editing apps. There are plenty of iPhone Photo editor available on the App Store that you can use to edit your photos. Therefore, in this article, we are going to share the best photo editing apps for iPhone.
If you have ever used an Android smartphone, you might know about the Snapseed App. It's a photo editing app developed by Google for Android and iOS. The good thing about Snapseed is that it's free to use, and it offers lots of image editing features. With Snapseed, you can adjust colors, brightness, contrast, etc., in just a few taps.
Want to enjoy the popular desktop photo editing software Adobe Photoshop on iOS? If yes, then you need to give Adobe Photoshop Express a try. Compared to all other photo editing apps for iOS, Adobe Photoshop Express offers more features. It has some useful editing tools like blemish removal, defog, noise reduction, etc. Also, it has lots of photo filters that give your images a new touch.
Like all other photo editing apps for iOS, Polarr also offers users a wide range of photo editing tools and filters. Polarr also gives users some advanced photo editing tools like brush, color masking, etc. Apart from that, it was the highly accurate face detection feature that makes Polarr stand out from the crowd. So, Polarr is another best photo editing tool that you can use on your iPhone.
If you are searching for an iOS app that specializes in photo and video editing, you need to pick Ultralight. The great thing about Ultralight is that it provides users a wide range of image and video editing options. With Ultralight, you can adjust the Saturation and Temperature of your photos. Not only that, but it also provides users tools to clarity, sharpen, emphasize images.
PicsArt is one of the leading names in the photo editing industry. The mobile app lets you edit photos & videos on the go. The photo editing app for iPhone has all features that you want to fulfill your photo editing needs. Apart from that, PicsArt Photo Editor also offers quite a few image retouch options like photo filters, frames, backgrounds, callouts, borders, etc.
VSCO is another best-advanced camera and photo editing app that you can use on your iPhone. The great thing about VSCO is that it packs all necessary photo editing tools for cropping, exposure control, sharpness, and color. Not only that, but VSCO also offers users a full set of 135+ photo filters. Apart from that, VSCO also has a built-in camera app with manual controls.
Afterlight is a multi-purpose photo editing app for iPhone that also offers users few creative options as well. With Afterlight 2, you can control exposure, color, sharpness, etc. Not only that, but Afterlight 2 also offers users a few advanced tools like selective color, gradients, blending modes, curves, etc. However, Afterlight is a premium app that costs $2.99.
If you are searching for a photo editing tool specializing in removing unwanted objects from photos, you need to install TouchRetouch. Guess what? TouchRetouch is known for its lasso tools for accurate object selection. With TouchRetouch, you can remove dust spots, wires, unwanted objects, etc., from images.
If you are searching for an iOS app to fine-tune your images, then Adobe Lightroom CC might be the best pick for you. Adobe Lightroom CC is generally used for quick edits. It allows users to create and save custom presets, which can be used for later use. Apart from that, Adobe Lightroom CC also includes a few advanced editing tools like curves, color mix, etc.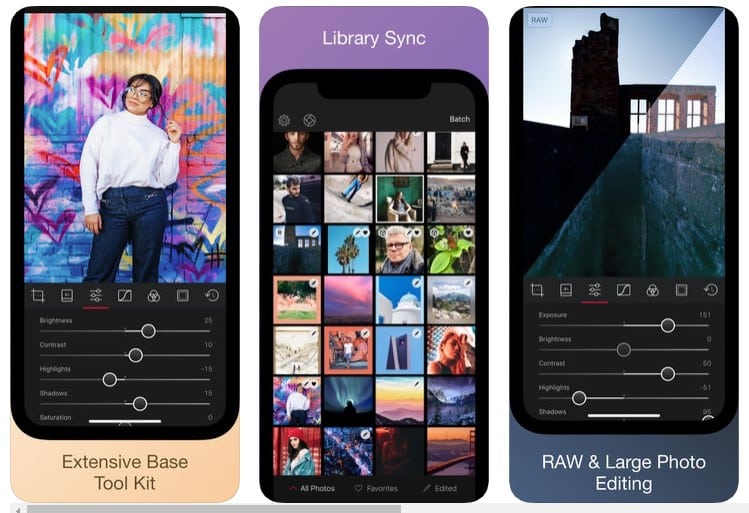 Although not very popular, Darkroom is still one of the best apps to edit photos on the iPhone. The free photo editing app has all tools you need to bring your pictures to life. With a Darkroom subscription, you can also unlock a full-fledged video editor. So, Darkroom is definitely the best photo editing app for iPhone in 2021.
So, these are the best photo editing apps for the iPhone. If you know any other apps like these, let us know in the comment box below.


This post was written by Amarnath Chakraborty and was first posted to TechViral
---
Do you find this article helpful? Your Friend might too. So, please Share it with them using the Share button above.
Will you like to get notified when I post new updates? Then Follow me on any of my social media handles:
Google News, Telegram, WhatsApp, Twitter, Facebook, Pinterest.
You can also drop your email address below if you wish to be notified by mail.
---