Those days are gone when streaming games are only limited to desktop computers. Nowadays, gamers stream their gameplay videos from their Android smartphones. There are many high-quality Android apps available on the Google Play Store that allow users to stream gameplay videos on multiple platforms.
So, if you are searching for the best Android app to stream your impressive gameplay, your search should end here. In this article, we have rounded up some of the best live streaming apps for gaming on Android smartphones. With these apps, you can easily stream your favorite games without spending any extra fees.
Best Game Streaming Apps For Android
It's worth noting that there are plenty of live-streaming apps available on the Google Play Store, but this list only focuses on the apps that specialize in gaming. So, let's explore the list of best Android apps to stream your gameplay videos.
StreamCraft is not available on the Google Play Store, but that doesn't mean it's not a capable app. It's one of the best Android apps for gamers who are looking for an app to stream their gameplay videos. With StreamCraft, you can broadcast your gaming videos and earn rewards. It's also a platform where anyone can host or participate in a contest to win real cash.
If you are searching for an Android app to broadcast your gaming streams on multiple social media platforms like Facebook, YouTube, Twitch, etc., you need to give Omlet Arcade a try. The great thing about Omlet Arcade is that it supports a wide range of mobile games and a free app. However, the free version of Omlet Arcade degrades the video quality while streaming.
If you are a video creator or streamer, then Streamlabs might be the best app for you. The app lets you go live with just a few taps. The good thing about Streamlabs is it's growing user base. Even Streamlabs allows you to add filters and video effects on the streams, further enhancing the stream quality.
Nexplay is basically a streaming platform in itself. Since it's a streaming platform in itself, it lets users live to stream their gameplay videos on its platform only. Although the platform is not as popular as Twitch and YouTube, it had a targeted user base. If you don't want to stream, you can watch live videos from various tournaments from all across the world.
Mobizen Live Stream for YouTube allows users to stream in 1080p format with 60fps. Mobizen also allows users to turn on or off their front-facing camera, hide their chatbox while streaming. However, please keep in mind that Mobizen Live Stream only allows users to stream to Youtube.
Ustream is one of those awesome Android apps that allows you to watch live video and broadcast live on your phone or tablet. With this app, you can either watch live videos, discover upcoming events, etc. You can also broadcast live to any number of viewers using the camera of your device.
Twitch is a platform that allows you to broadcast your very own gaming content. This is basically a platform for gamers that lets you watch gameplay. Apart from that, it also lets you live chat as you watch gamers play everything.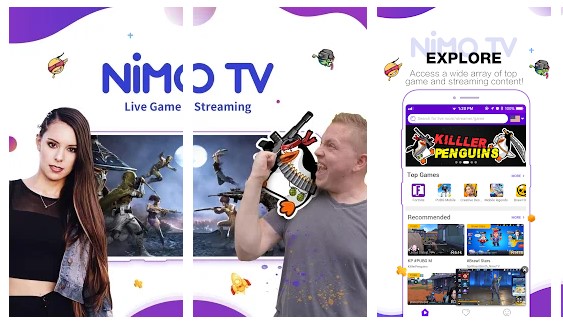 Well, if you are searching for an Android app to play and broadcast your gaming videos to other like-minded players, then Nimo TV – Live Game Streaming might be the best pick for you. The app servers as a global platform for millions of gamers to showcase their gaming talents. The audience supports the platform, who watch, comment, and critique gamers' gaming styles.
SGETHER Studio is for those who have been searching for an Android app to broadcast the phone screen as is. SGETHER Studio supports a wide range of games, including RPG, FPS, and strategy simulation. On SGETHER Studio, you need to create your channel to live stream the gaming videos. Unique gameplay videos would help to grow your channel and become a popular streamer.
StreamElements is an app that helps you to stream gameplay videos live from your mobile device. You can stream directly to YouTube or Twitch from your phone or tablet. Not only that, but StreamElements also allows you to interact with subscribers and followers and manage your live streams.
So, these are the best Live Streaming apps for gaming on Android. If you know any other such apps, let us know in the comment box below. I hope this article helped you! Please share it with your friends also.


This post was written by Amarnath Chakraborty and was first posted to TechViral
---
Do you find this article helpful? Your Friend might too. So, please Share it with them using the Share button above.
Will you like to get notified when I post new updates? Then Follow me on any of my social media handles:
Google News, Telegram, WhatsApp, Twitter, Facebook, Pinterest.
You can also drop your email address below if you wish to be notified by mail.
---