Sometimes having an up-to-date operating system is not enough to protect our computer from hacking attempts or malware attacks. Malware can enter your system through various means like email attachments, during software installations, or through installed software.
Since we never care to update apps that have been already installed on our computer, malware creators often target the older version of apps to push malicious files. However, these things can be easily fixed by updating outdated software. But, if you are one of those who has lots of software installed on PC, then manually updating each software might be a tiresome task.
List of Best Free Software Updaters For Windows
So, to make things a little bit easy, we will share some of the best Free Software Updaters that can be used to update all your Windows software at once. So let's check out some of the best free software updaters for your Windows 10 computer.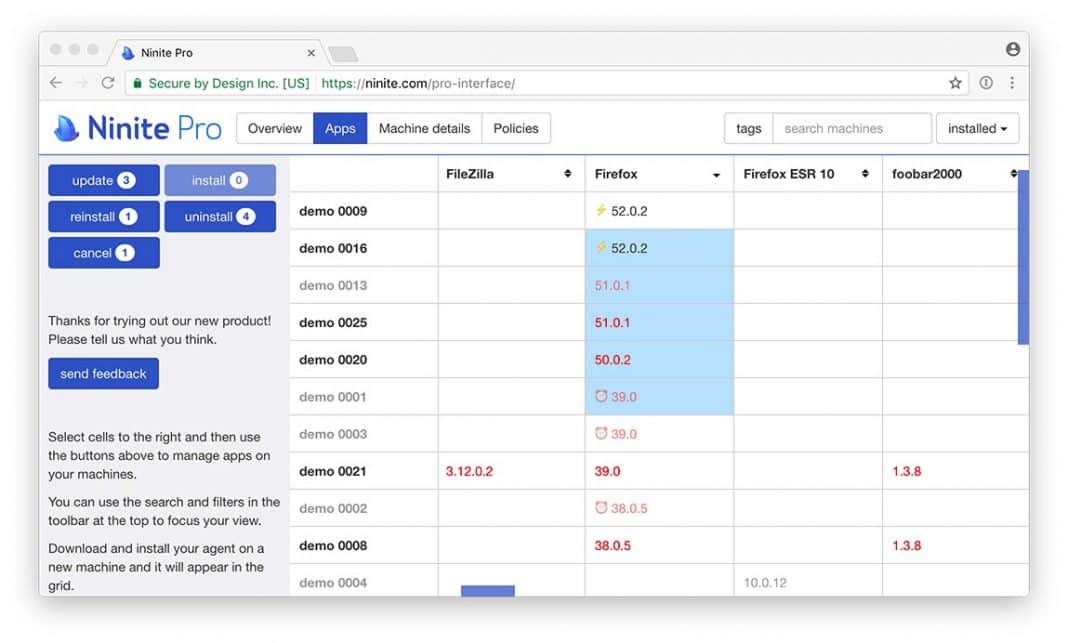 It is another excellent software updater on the list which you can use on Windows 10 computer. The software is known for its minimalistic interface and features. Apart from updating the software, Ninitie also scans and update device drivers. So, it's definitely the best software updating tool that you can use on Windows.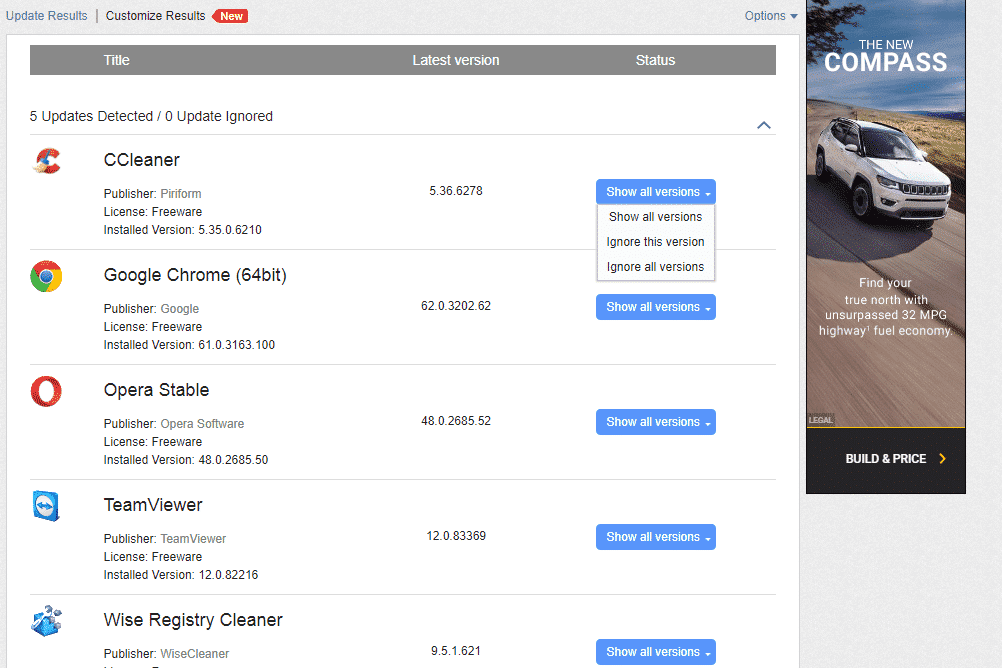 As the name of the tool says, Software Updater is meant to update outdated software. The great thing about Software Updater is its interface which looks straightforward, and it's free from any complicated settings. Talking about the features, Software Updater scans and lists the current version of all installed software and provides the update link if available.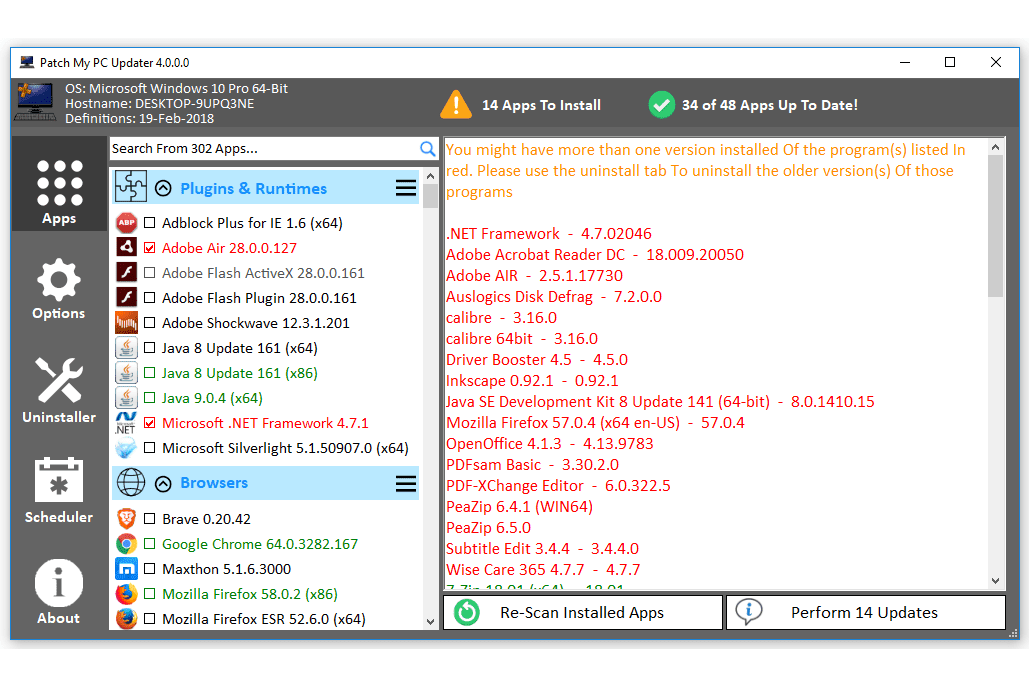 Patch My PC Updater is a portable software patcher available for Windows 10 computer. Compared to every other software updater programs, Patch My PC Updater is pretty easy to use and lightweight. Once installed, it scans for all software and lists the outdated ones. It also lets you update all outdated software in just one click. Apart from that, Patch My PC Updater also includes many additional options like disabling silent installs, disabling installation of beta updates, etc.
OUTDATEfighter is a little bit different compared to all others listed in the article. Once installed, it automatically scans and finds every outdated software installed on your PC. It also supports batch operations like you can install batch updates, remove applications in bulk, etc. What makes OUTDATEfighter unique and more useful is that it performs a virus scan before installing any update.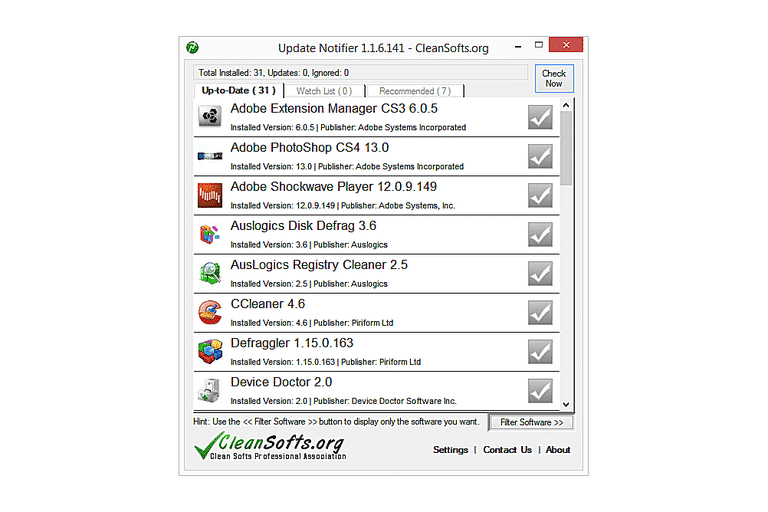 If you are looking for a simple to use free program updater for Windows 10, Update Notifier might be the best choice. The great thing about Update Notifier is that it automatically scans the available software and provides you with the download link from official sites. That means you need to download the updates through a web browser or download managers.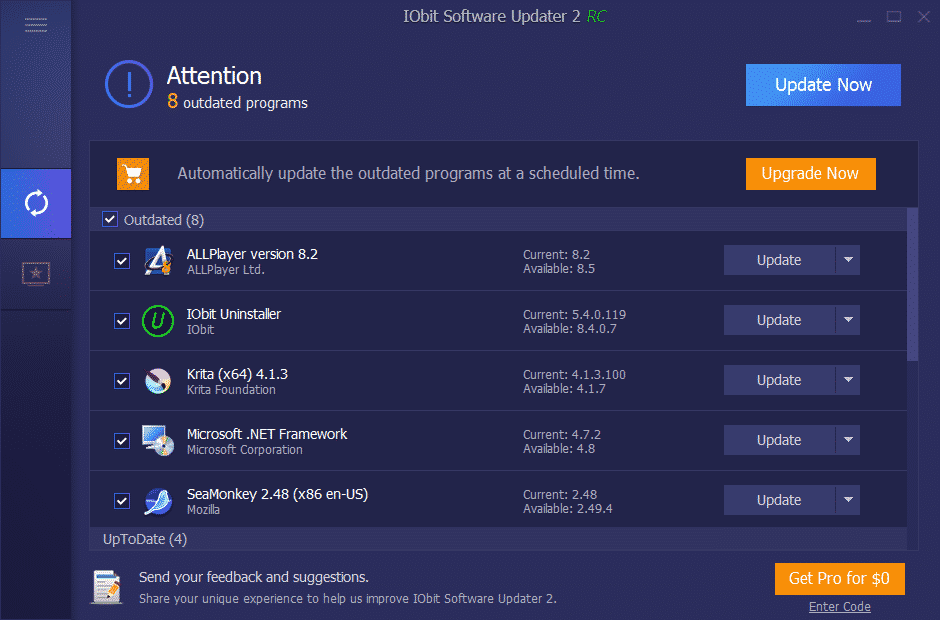 If you are searching for a simple to use yet effective software updater for Windows 10 computer, then IObit Software Updater might be the best pick for you. Guess what? IObit Software Updater has every feature that you expect from a software updating tool. The tool lists the current version of installed software along with the latest version. Apart from that, IObit Software Updater supports single updates, bulk updates, and even automatic updates.
Well, Thor Free, which is previously called Heimdal, is one of the excellent software updater tools you can use today. From scanning for outdated software to downloading the updates, everything on Thor Free is fully automated. Yes, you can manually set the software to tweak your preference, but the default settings work pretty well. The only drawback of Thor Free is that it supports only a few popular programs.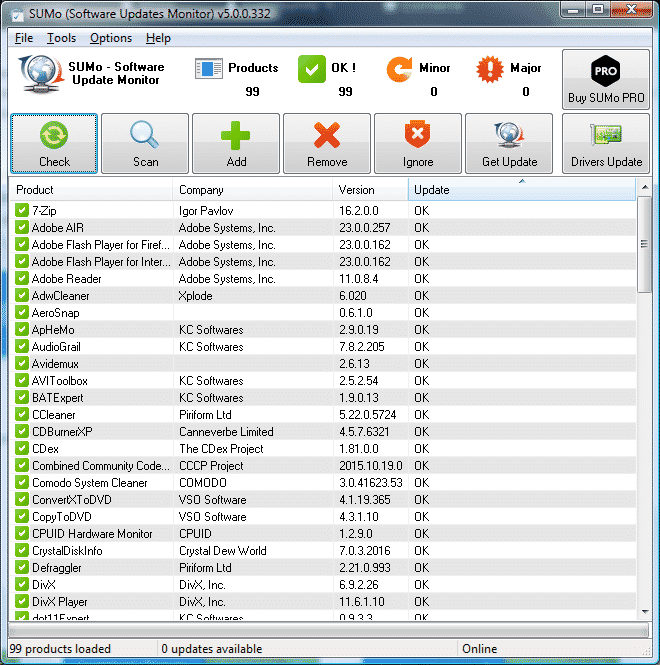 Well, SUMo which stands for Software Update Monitor, is another Windows 10 software updater that you can use right now. The software scans your hard drive for software. The scanning process is a little bit slow, but once scanned, it lets users know which programs need to be updated. It also allows users to select software to update manually.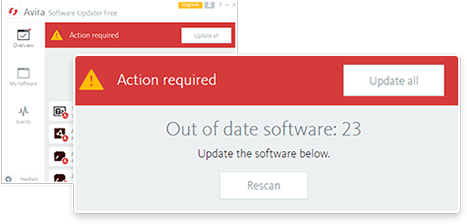 If you are searching for an easy to use Windows software to update all software, then Avira Software Updater might be the best pick for you. Guess what? in just one click, Avira Software Updater scans for outdated software and tells you which ones need to be updated. It is available in two versions – Free and Premium. The free version is just a limited version of the paid edition that has some more features.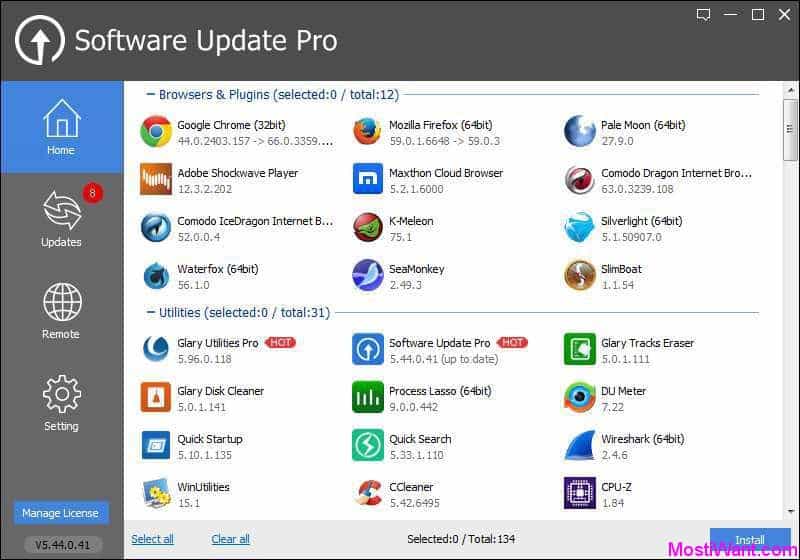 Well, instead of providing you with the updated version of installed apps, it opens the results in your browser and gives you direct download links to all available updates. It's basically an update checker tool for Windows that checks for available program updates. You can manually setup Glarysoft's Software Update to skip beta version updates. The tool is also pretty lightweight and can run in the background without affecting the overall system performance.
So, these are the best Windows Software updater which you can use right now. If you know of any other apps like these, let us know in the comment box below. I hope this article helped you! Please share it with your friends also.


This post was written by Amarnath Chakraborty and was first posted to TechViral
---
Do you find this article helpful? Your Friend might too. So, please Share it with them using the Share button above.
Will you like to get notified when I post new updates? Then Follow me on any of my social media handles:
Google News, Telegram, WhatsApp, Twitter, Facebook, Pinterest.
You can also drop your email address below if you wish to be notified by mail.
[newsletter_form type="minimal" lists="undefined" button_color="undefined"]
---