It's no doubt that Android is right now the most popular mobile operating system. Compared to every other mobile OS, Android provides users more features and customization options. Apart from that, Android has always been known for its massive app ecosystem.
There are different types of apps available on the Google Play Store, like productivity apps, utility apps, troubleshooting apps, etc. In this article, we have decided to share a list of the best Android apps that would help you test your phone's touch screen.
Also Read: 10 Best Android Apps To Identify Touch Screen Problems
List of 10 Best Android Apps To Identify Touch Screen Issues
With these apps, you can quickly figure out whether your phone's touchscreen is working correctly or not. These apps will also help you to identify and diagnose any issues related to your Android touch screen.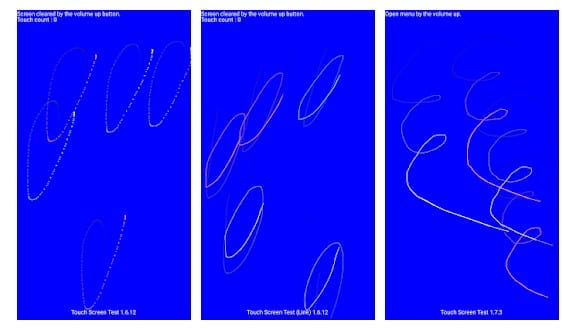 If you are searching for a simple app to check the touch panel's status, then Touch Screen Test might be the best pick for you. Since the app is wholly devoted to testing the touchscreen, you need to use the Volume Up and Volume Down button to navigate the in-app menu. It also examines the multi-touch support of your phone's screen.
Well, Screen Test Pro is a relatively new Android app to test your phone's touch screen characteristics. It provides you a detailed overview of your phone's screen. It shows lots of information like resolution size, pixel, density, DPI value, etc. It also detects the screen color rendering force, dead pixels, bright spots, and so on.
It is another best Android screen test app on the list, which would help you find your screen's dead area. The app is a little bit different compared to all others listed in the article. It uses a unique method to find dead spots on your phone screens. The app shows circles on your screen when you touch the circles; it lights up green and stays that way. You need to fill in all circles. If you find a dead spot, you will know because the circle won't light up.
MultiTouch Tester is a useful multi-touch screen test app available on the Google Play Store. The app lets you know how many fingers your phone can handle at once. As soon as you place multiple fingers on the screen, the app will number each one and give them a unique color. It also records how many fingers in total were registered on the screen.
This app is for those looking for a free app to perform a series of in-depth display tests of their smartphone. The good thing is that Display Tester supports testing on all types of screens, including LCD, OLED, AMOLED, etc. It lets you perform several necessary tests like Color Test, Gamma Calibration, Screen Viewing Angle Test, Dead Pixel test, etc.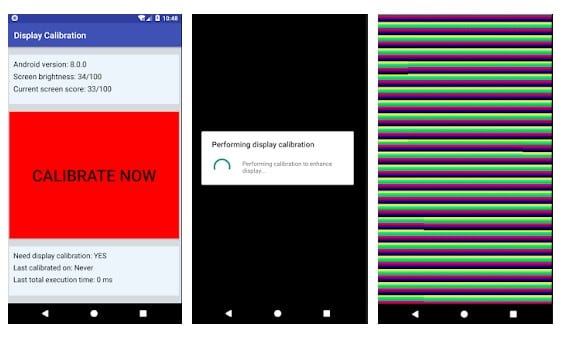 The play store listing for Display Calibration claims that it can calibrate all the pixels uniformly across the screen and remove dead pixels. We don't know how true it is, butmany users seem to benefitd after using the app. If not dead pixels, Display Calibration can quickly fix display resolution-related problems. The app is top-rated, and over 500,000+ users right now use it.
If your phone's display is broken or damaged, and you are experiencing self-touch, ghost touch, etc., then you need to use this app. The app claims to block the touch in the problematic parts of the screen. The app is quite effective in eliminating the ghost touch that appears due to the defective display. Although the app is not much popular, it's still worth a try.
Screen Check is a pretty useful Android app that checks your display for dead pixels or burn-in. The app is free to download & use, and it doesn't even show ads. It uses the nine base colors to find all dead or stuck pixels and display burn-in. The app is pretty effective, and it's pretty popular amongst Android users.
With Dead Pixels Test and Fix Android app, you can easily detect any stuck or dead pixel on your LCD screen. According to the Google Play Store listing, Dead Pixels Test and Fix try different means to treat stuck pixels. It claims to fix even the screen burn-in. The app works with all resolutions, and it even supports tablets.
Well, Device Info is an app that provides you information about CPU, RAM, OS, Sensors, Storage, Battery, Network, Display, Camera, etc. It automatically runs few tests on your smartphone to check if any component needs optimization for better performance. The device test options also include a Display test that identifies dead pixels and screen burn issues. Overall, it's a great app to identify touch screen problems on Android.
So, these are the ten best Android apps to test the phone's display, quality, and color. I hope this article helped you! Please share it with your friends also. If you know of any other such apps, let us know in the comment box below.


This post was written by Manpreet Singh and was first posted to TechViral
---
Do you find this article helpful? Your Friend might too. So, please Share it with them using the Share button above.
Will you like to get notified when I post new updates? Then Follow me on any of my social media handles:
Google News, Telegram, WhatsApp, Twitter, Facebook, Pinterest.
You can also drop your email address below if you wish to be notified by mail.
[newsletter_form type="minimal" lists="undefined" button_color="undefined"]
---